fmReports, fmCustomReportsForm, fmAddNewReportDialog

fmReportEditDialog, fmAddNewSQLDialog, frxPreviewForm , fmParamsFill
It's important to stay up to date with the overall performance of the business. Reports section allows the store owner to view information about customers' behavior on his/her website. 
We are glad to offer our help and create Reports personally for you following all your requirements and needs. Please contact us today with a sample of your report and we'll provide you estimated time 
and cost.
The following topics are covered:
General Information
Comparing reports' data allows you to see if you need to make any changes in pricing or product descriptions. For some reports, you need to specify the report dates before the report is generated. 
Once you open any report, the following options are available: print, save, see the report outline, thumbnails, choose page settings and edit page (report). There are also numerous export options 
available. You can save the current report as an image file, PDF file or a table and open it later using some application. This can be a big help when it comes time to fill out your tax report since you can 
import it directly into an Excel spreadsheet
All reports in Store Manager can be customized, you can change report layout, insert pictures (logos), add and remove fields etc. There are many ways to customize a specific Report. 
Just go to Edit page by clicking 
the corresponding icon. There you'll see "Designer's" toolbar, "Standard" toolbar, "Text" toolbar, "Frame" toolbar, "Align" toolbar. 
Also you can create your own reports. By each report name you can identify its purpose and information it contains. 
Each report has two parts:
Report template -

 are stored in .fr3 files they contain report layout information. 

Report queries -

 are stored in .sql files, they contain SQL queries to retrieve data required for the report.
You can find report files under "Application Data" directory shortcut: Start -> All Programs -> eMagicOne -> Store Manager for Magento -> Application Data. 
By default Store Manager "Application Data" directory looks like this: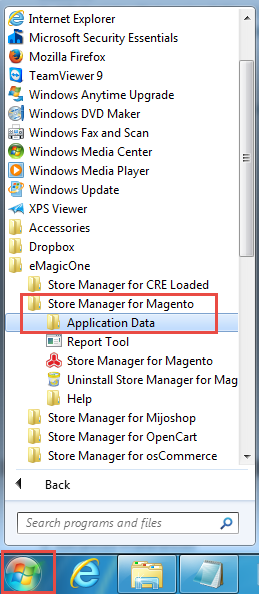 Report Types
Report section helps by automatically calculating hourly, daily, weekly, monthly and yearly data for your store. Program has two types of reports:
General reports (Currently there are five reports available by default)
Custom reports (You can create them manually)
These two types are almost identical, the only difference is that custom reports can be modified within Store Manager, you can add new custom reports or remove existing, whereas default reports should 
be modified with external program called Report Tool (rptviewer). You can find Report tool in application program group along with other program shortcuts:
Local Disk (C) / Program Files (x86) / eMagicone  / Store Manager for... / rptviewer3
Report Editing
Store Manager allows you to work with a third-party program (Report Tool) for report developing and editing. Check User's Manual to learn more about this tool. 
In case you want to add some logo or change text format for some columns, you just need to modify report template (you do not need to modify SQL files). 
To edit one of report templates follow few steps:
Run Report Tool - Go to 

Start -> All Programs -> eMagicone -> Store Manager for... -> rptviewer3 (free third-party application). 

Open Report Template (.fr3 file) in the Report Tool - Go to

 Start -> All Programs -> eMagicone -> Store Manager for ... -> Application Data -> Reports -> English sub-directory (for default reports like Invoices, etc)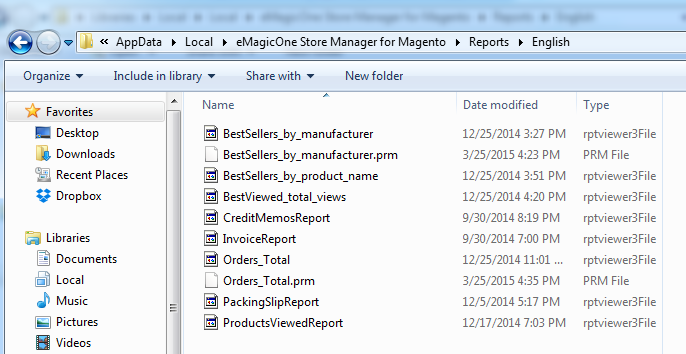 and Custom Reports sub-directory (for Custom reports).





Also you can find it in 
C:\Documents and Settings\Your_User\Local Settings\Application Data\eMagicone Store Manager for ...\Reports\English\ or Custom Reports sub-folder.

Remember that every report besides of its template needs some data to be displayed. To customize the data for any report (in case you would like to add some additional information to your report) you 
have to modify .sql files.

SQL files are stored in Reports\SQL sub-folder. Please note that this requires some SQL skills. Please note that the modification of the report is not a feature of Store Manager itself and we do not 
provide support for the third-party application (Report Tool). 
Order Report Development
In case you need to design your own reporting document with the specific data in it, press the option in the top toolbar and you will get to the page, where the appropriate report design can be ordered. 
The report's price may change depending on the complexity of the request, so it would be better to fill the form in the page below and specify all your requirements and interesting questions.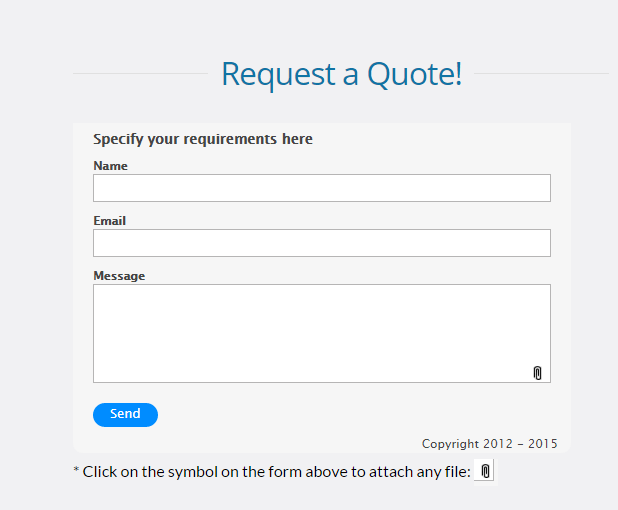 You will get the answer from our Managers during 24 hours after checking your request with Tech engineers.
For detailed information concerning the service, please visit our page . 
Find more information on Report Development and Management in our page of useful articles, i.e. take into account the following tutorials:
Magento Report Features and Usage
Magento Report - Latency Matrix
Magento Report - Recency, Frequency, Monetary
Magento Report - One-time Buyers
Magento Barcode Labels: Create and Print
You're welcome to contact us for additional consultations.