fmTierPrice - Tier Price
Tier Pricing is a promotional tool that allows a store owner to offer pricing discounts on items, based upon purchasing in larger quantities. This is an effective way to move more merchandise, and appeal to customers who buy more than one product at a time. When a customer adds a designated quantity of a product to their cart, the price is automatically changed to reflect the pre-configured quantity discount level.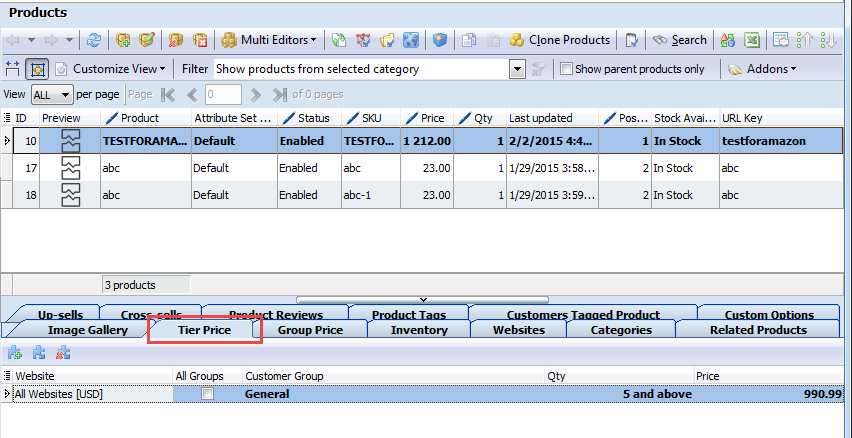 You may Add, Edit, or Delete tier prices using the designated buttons 
  or through the context menus.
To add 
, or edit 
  tier prices, follow the steps below:
Press Add or Edit Tier Price
Specify the following parameters:
Website - Select a Website, from the drop-down menu, that you wish to apply the discounted price to.
Customer Group - Enable the 'All Groups' check-box, to apply the discounted price to all groups, or disable the 'All Groups' option, and select a specific Customer group, from the drop-down. Tip: To apply a tier to multiple groups, but not all groups, create multiple tiers, each with the same Qty and Price information, and select a different customer group in each.
Qty - Specify the quantity at which you wish to apply the discounted price.
Price - This is the price that each item will cost when the customer chooses to purchase the specified quantity or more.
    3. 

Click OК to save this entry, or click cancel to discard this entry.